Targeted washing system for pest removal from apple crops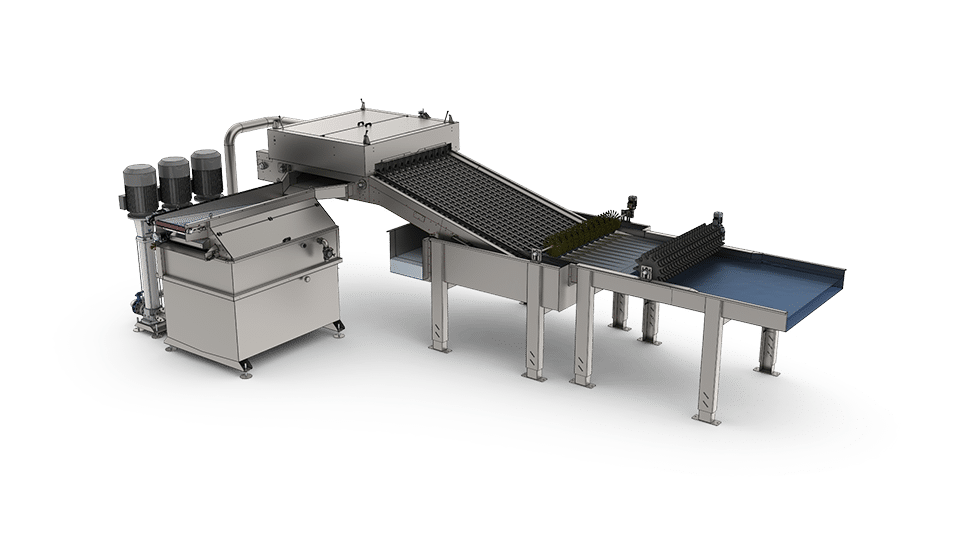 Flume singulation
Singulating elevator
High pressure pumping system
High flow filtration unit
Rotary wand washing manifold
Controlled fruit rotation
Touch screen control & advanced PLC controls
Key Features
Multistage filtration up to 150 m3/hour of water down to 200 microns reducing water consumption and protecting pumps and nozzles from blockage.
Adjustable wash wand height to enable washing optimisation for different sized fruit.
Touch screen control and advanced PLC communications ensuring seamless line integration and simple operation.
Customizable pressure settings to ensure delicate fruit does not get damaged.
Stainless steel construction.
AS/NZS 4024 Machine Safety Compliant.
Meets MPI Requirements for exporting apples out of NZ.
Sensor controlled pump speed to ensure compliant pressure is always maintained.
Nozzle wear routines compensate for wear extending the usable life of your nozzles.
Self-diagnosing algorithms will inform the operator if the spray nozzles require maintenance ensuring export compliance.